Coatings :

The company currently specializes in providing surface treatment in the following –
Duplex Nickel Hard Chrome Plating
To Increase corrosion resistance highly leveled & ductile duplex Nickel plating is being done. Nickel is deposited as a semi bright and bright layer on the motorcycle front fork inner tube, shock absorber piston rods and hydraulic pistons and cylinders as an undercoat to Hard Chrome Plating.
This process is known as functional Nickel Plating.
Nickel Chrome plated Inner Tube
The Character of Plating is influenced by Plating Condition, Nature of substrate, composition of solution and its purity –
To control condition of plating - We have fully best in class ISO/TS -16949 certified automated plants.
Nickel Chrome plating Plant
To control nature of substrate good quality of grinding is required for that we have best class of Grinder where imported Grinding wheels are being used.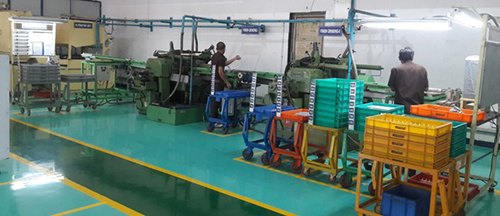 Grinding and Machining Plant
Composition of solution and its purity – We have world class ISO/TS 16949 Certified inhouse Laboratory equipped with Volumetric Analysis & spectrophotometer facility for analyzing bath chemistry and chemical contamination .For product testing, we have Fischerscope X-ray machine, Shimadzu Microhardness tester and salt spray chamber for testing corrosion resistance.
Testing and R&D Laboratory
---
Hard Chrome Plating
Chromium layers of high thickness used for engineering purpose is known as Hard Chrome Plating. This hard chrome plated layer is an alloy of chromium, oxygen and hydrogen. Due to presence of oxygen in deposited chrome matrix, hardness and wear resistance of chrome plating is more than pure chrome metal ingot; hardness we achieve is 950-1050 HV.
Hard chrome plated Hydraulic Piston rod.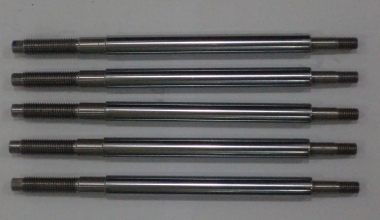 Shock Absorber Piston Rod.
In our process due to special bath chemistry and process control we do plate micro cracked chromium of cracked density around 1000 nos. per linear centimeter. Micro cracked chromium is a special type of plating having continuous and uniform network of cracks is good for corrosion resistance and lubrication due to oil retention in piston application.
Hydraulic Cylinder Plating Plant
---
Silver Plating
We are a leading Industrial Silver Plater Supplying to multinational OEM customers engaged in manufacturing of Switch gear, transfer switching equipments, Load break, Isolation switches, fabricated bars and bus bars, press parts, laminated flexible and forged parts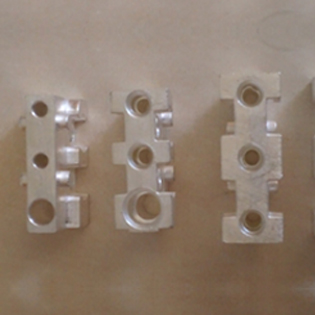 Why good Silver plating is required for contacts and connections in high voltage circuit breakers –
The Temperature rise allowed is considerably higher (65°C) for silver plated connections than un-plated copper connections (30°C).
Silver plated copper does not oxidize as rapidly as bare copper.
If we use only copper component then copper oxidize and reduce the conductivity.
Oxidized copper connections increases electrical resistance and temperature rise of conductors.
For sliding contacts Hard Silver Plated contacts withstands the stress of moving joints.
The electrical conductivity and Solderability of the Silver Plated components are maintained by process control and bath chemistry. We also have a special plating process for hard silver plating having hardness ≥ 100 HV as required by some customer.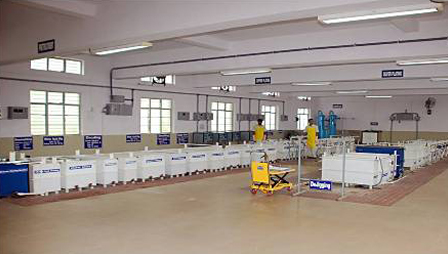 Silver Plating Plant